B

arn owls, Mel (the male) & Sydney (female), are located in Oceanside, California - San Diego County, USA

T

he Box-builder/owner "KangaRobin" is originally from Mel(bourne), Downunder (+U.S proud citizen), hence the Aussie names chosen for these owls.

T

he box has been up since mid-November 2010 and owls moved in two weeks later!

T

hese are wild & free barn owls located in my yard, but they are not my pets.

T

hey may leave the box at will.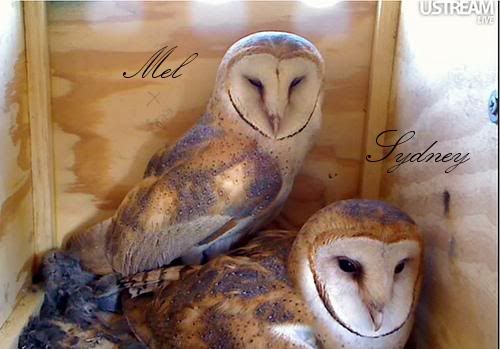 S

orry, no merchandise will be available about

Mel & Sydney

- my house, my yard, my box, but EVERYBODY'S owls. The gift we get is the privilege of watching these lovely creatures. If you'd like to benefit barn owls or wildlife in general, then make a donation to an organization in your area.