A

round 60 million people will experience the rare October snowstorm, which should unleash heavy, wet snow and wind, causing fallen tree branches. Some areas bracing for up to a foot of snow. In the US as well in Britain winter is starting early. Frozen and snow-covered ground means that many birds and animals will be tested to the limit.
I
ll equipped for cold weather, Snow takes a heavy toll on barn owls. Cold winters with snow cover causes mortality.
B
arn owls are badly affected by the snow and freezing conditions during the winter and struggle to cope during long periods of snow cover. Starvation looms as their prey becomes increasingly difficult to come by.
As barn owls rely heavily on their hearing, the snow also makes it difficult for them to locate their prey.
Food supply is the most important thing but since barn owls feed on small mammals, which are less active during cold weather, and the snow cover means that they rarely venture out into the open. When snow is covering the ground, they can sometimes be seen hunting in daylight, using fence posts to perch on. This helps to conserve energy but also exposes them to danger. Away from the cover of darkness, barn owls are extremely vulnerable to mobbing and food piracy from other bird species, such as crows and kestrels, but this is the price they pay in order to survive.
A
fter three to four weeks barn owls can die in large numbers. Last winter more than 100 of the birds were found dead across the UK in December alone - three times the number ornithologists would expect indicating the mortality rate was running at three times what it would usually be at that time of the year.
N
ational Park Rangers felt that these represent only a small proportion of those likely to have died. David Ramsden, from the Devon-based Barn Owl Trust, said the poor weather the country experienced over the past two winters had affected the birds' survival rates as they were not built for cold weather.
"They need to be light so they can hunt from the air - other owls can just walk about and pick up earth worms." Barn owls don't have the ability to store a lot of fat, and they're not very well insulated."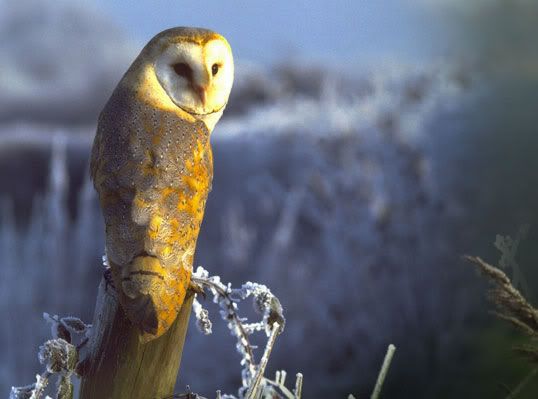 In D
evon and
C
ornwall (UK) volunteers survey hunting grounds, install owl boxes in viable places and monitor populations.
A
nyone with Barn Owls roosting in an outbuilding who would like to try to help them in the harsh weather, might want to leave out a little animal feed or grain in an open area in the building to attract mice and hopefully make easier hunting for the birds.
Bird experts say the number of barn owl deaths has risen three fold as a result of harsh winters.
If harsh winters continue the species could go into decline.
Please put up your OwlBox Today!
2UK Barn Owl Nest Boxes
DWT picture shows the entrance to the nestbox (the small hole above the 2nd floor window).
A

BARN OWL called Bob, who's been living in a box by himself for several years, has found a mate called Brenda.


B

ob was the solitary occupant of an owl box at Dorset Wildlife Trust's Lorton Meadows Nature Reserve, near Weymouth. (UK) Now he's been joined by Brenda as of 2010

"The prospect of being able to follow the breeding of a barn owl family from start to finish is really exciting and will provide all sorts of data that will prove useful. That the viewing is available for everyone to enjoy is both informative and a real insight into the day to day activity of one of our most charismatic native birds."


Many wildlife enthusiasts have begun watching Bob and Brenda.

Watch Bob & Brenda barn owls from the Dorset Wildlife Trust (UK)

http://www.dorsetwildlifetrust.org.uk/wildlife-webcam.html


Outside image of L&E nest box 10/30/11
W

atch Luke & Emma Cornwall a Barn Owl Trust nestbox on a farm in Cornwall (UK)
http://www.thewebbroadcastingcorporation.com/barnowlcam_nestcam.html inside nest box
http://www.wildlifetv.co.uk/barnowlcam.html outside nest box link