Author Kathyrn Lasky
Legend of the Guardians: The Owls of Ga'Hoole, is based on
Kathryn Lasky's juvenile novel series Guardians of Ga'Hoole.
Soren a young Barn owl, has grown up listening to his father's stories about the Guardians, a legendary band of heroes who fought to keep owldom free. But when he and his jealous older brother Kludd are kidnaped, Soren learns the evil Pure Ones are once again plotting to enslave owlkind. Escaping from their clutches, he and a typically mismatched group of friends set out to find the Guardians, the only owls capable of defeating the Pure Ones.
The animators went to an owl sanctuary to learn how to properly depict owls in flight and the ruffling of their feathers, as well as owl behavior and their dietary needs.
If you haven't seen it yet, go rent it!
Movie released
Sept 2010
Out on Video - Rated PG for some sequences of scary action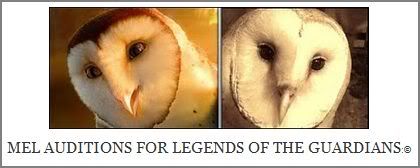 Sorry Mel - Maybe you'll make the sequel!
Fun Ga'Hoole games to play with the kids-click on links below
http://legendoftheguardians.warnerbros.com/bouncing_owlets/#/Game
http://legendoftheguardians.warnerbros.com/flywiththeguardians/
http://legendoftheguardians.warnerbros.com/puzzle/LOTG_OwlRevealGame.html