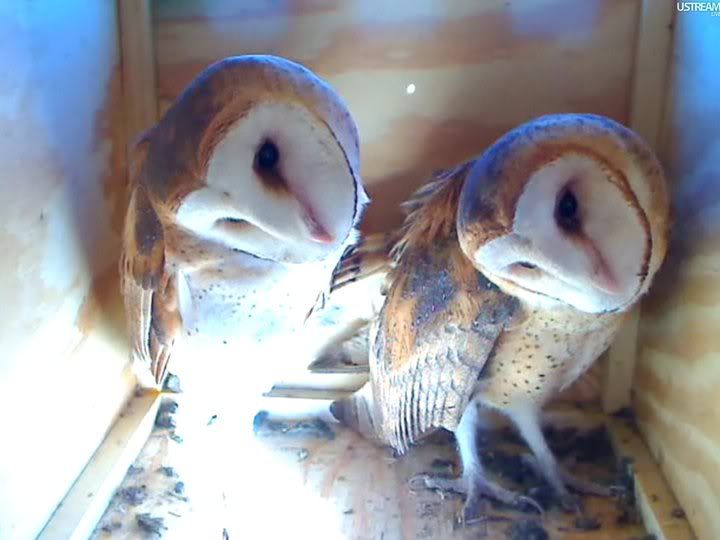 The blog wanted to share a very sweet and heartfelt letter we received from one of our loyal viewers and chatters Bareye (
with her permission
)
I hope you enjoy it like I did.
Dear Mel & Syd,
Just writing to let you know how much I miss you both. I miss the comfort of your affection for each other. You have opened my world, every day the window of my world grows larger and you have been an important part of it.
It is a wonderful gift peeking into your life and watching the joy that you bring to others.
If you only knew!
My nephew in Round Rock Texas brought your site to school and after his teacher previewed it, the next thing we know the whole class is watching the inner
sanctum of your world.
Thank you Kanga for all the work you went to, it has been a real joy in my life to watch my first owl family laying eggs, setting on the eggs, the hatching of each egg, watching the love and joy that each of these owlets shared with each other. How faithful Mel was in keeping the pantry full and loving Syd all this time. The antics of the owlets left me almost rolling on the floor at times. How they crank their heads (I musn't say cock their little heads, the Enfowlcer gets upset) Dinky dancing, my amazement watching the owlets fledging and leaping from one end of the roof to the other and then discovering they could fly straight up off the roof.
What a great summer this has been, the best entertainment ever. I am asking for an owl box for Christmas with a cam that I can hook up to my TV.
22 pounds of

HORK!

I still haven't gotten over that.
Any hoooo just wanted you both to know that you are missed and I think of you both often and go back and watch the video's I downloaded.
I will pray for rain, green grasses and lots of rodents so you can start a new clutch.
Bareye
Can someone please hand me a tissue!