Michele Caron stabilizes a four-week-old barn owl's broken leg
KENNEWICK -- A steady hissing sound filled the small shed. Crates covered in cloth lined a wall.
The farm overlooking Badger Canyon houses the Tri-City operations of Blue Mountain Wildlife, a Pendleton OR-based rescue operation for injured wildlife, mainly birds of prey.
One of the crates was temperature-controlled, with a sliding glass door. The baby animals inside were feasting on mouse parts.
On any given day in the spring, this shed surrounded by rolling vineyards on the fringe of Kennewick holds about 20 young barn owls.
The rule for how long they need to stay confined in the shed is simple -- until they can eat a whole mouse.
Young owls -- some just days old -- end up in trouble because their parents' favorite nesting spots are on top of haystacks, said Michele Caron, who runs the Tri-City rescue.
When the haystacks are moved to be sold before the owls can fly, the owlets fall off, sometimes as hay trucks barrel down the freeway.
When demand for hay is high, the stacks are moved earlier in the season, lessening the chances that birds can fly yet, Tompkins said.
One had a dislocated wing and a broken leg. Caron set the broken bone and taped a small splint to the leg. The other two birds were in slightly better shape.
All of them were hissing their little hearts out, trying to repel the humans they saw as a threat.
And that's exactly as it should be.
Caron uses a technique called "hacking" to raise the owls. That means exposing the birds to minimal human contact and maintaining their natural habits.
As soon as the young owls are ready to leave the shed, they're put into hack boxes -- large wooden boxes on top of 10-foot poles.
They are free to come and go, and Caron just tosses a few mice into the box twice a day, just as their mothers would do.
The owls never get used to people, and as soon as they can fly -- which they learn by instinct without an adult's example -- they start to hunt on their own and soon take off forever.
Actually, not all take off forever. At least one female per year sticks around and helps feed the new brood.
"They readily take on other babies besides their own," Caron said. "Three years ago, I had a foster mom that fed 19 of the babies before I ever had to feed one mouse."
"We feed just under 600 mice a day," she said.
It's really easy to avoid having to take owls to the rescue -- put up hack boxes nearby and put the baby owls in there, Caron said.
It's fine to move them. As long as the mother can hear them she will find the babies and feed them in the new nest..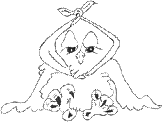 "Every household needs one," she said. "They're powerful, they're beautiful and we're fortunate to be around them.
Blue Mountain Wildlife Photo Gallery
http://www.tri-cityherald.com/2011/04/15/1452819_a1452731/gallery-owl-rehab-center.html
View their Video
http://youtu.be/R6eM9cQSL7c