Lesser Sooty Owl Tyto (multipunctata)
Female - Length(14-15") Weight up to(19oz)Male - Length(12-14") Weight up to (16oz)A small to medium, sooty black Owl with silvery white underparts. They have many similarities to the Sooty Owl but are lighter in color and noticeably smaller. Lesser Sooty Owls have very short tails. Their eyes are very large with a black Iris. The beak is pale horn.
A piercing downscale whistle, which can sound like a shriek at close quarters. There are also a variety of trills and chirrups associated with breeding.
Greater Sooty Owl Tyto (tenebricosa)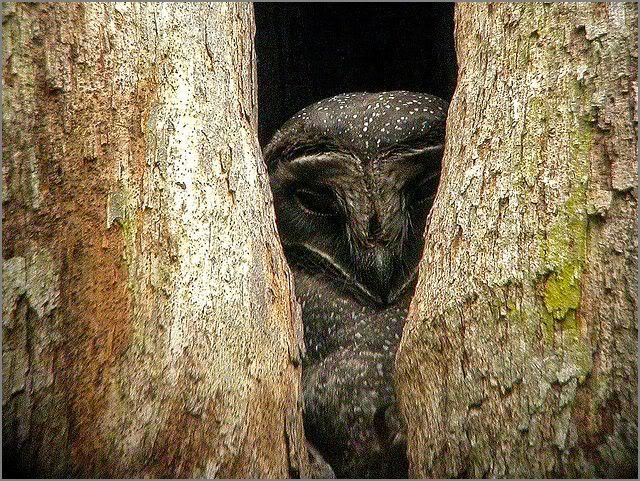 Ambua Papua New Guinea... Female - Length(17-20") Weight(26.5-35 oz)Male - Length(14.5-17") Weight(17.5-24.5 oz) A medium large, sooty black Owl with very large, dark eyes set in a round facial disc. The tail is very short, the legs feathered and eyes very large with a black iris.
They are distinguished from lesser Sooty Owls by much larger size and darker plumage. A Sooty Owl's Bill is horn colored and feathered almost to the tip.
The characteristic call is a piercing downscale shriek, lasting for upwards of two seconds.
Their calls has been likened to the sound of a falling bomb without the final explosion and the call is now widely known as the 'bomb whistle'.
http://www.owlpages.com/owls.php?genus=Tyto&species=tenebricosa